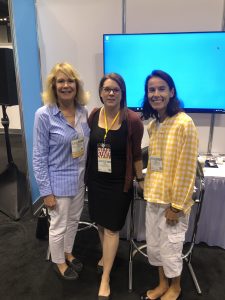 The American Psychological Association (APA) held it's Annual Conference in August in Chicago.  This year's keynote topics included Deep Poverty, Suicide Prevention and Gun Violence.
Maria was in attendance and appeared as a panel member.
Deep poverty affects more than 18.5 million people in the United States. For many, it's a condition that persists generation after generation. Psychology can help lift people out of this vicious cycle. The 2019 APA President shared her powerful first-hand experience, about APA is transforming to have more impact on critical issues like this. The audience was inspired by nationally acclaimed advocates for the underserved.
There is no single cause or cure for the growing issue of Suicide, but there is hope. Psychologists from all areas of expertise are working to move the dial on suicide. In a multi-disciplinary keynote session, a survivor shared his experiences linking advocates and providers, and leading researchers who shared the latest information on neurobiological indicators and the technologies to intervene at scale.  Experts discussed research breakthroughs and priorities, and an authority on suicidal behavior explored the healing power of community to build resilience within one of America's most vulnerable populations: African American men.
Whether it's living with the threat of a school shooting, or a factor in everyday life, every American has been affected by Gun Violence. The problem can seem intractable, yet this keynote speech indicated that every psychologist has an opportunity to better prepare their communities to reduce and prevent violence.