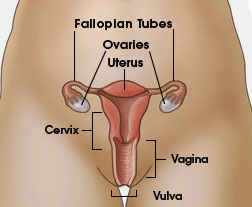 During the month of January, awareness and education of the disease is promoted in hopes of increasing early detection.
Cervical cancer is caused by a virus called HPV. HPV is short for human papilloma virus. This virus can cause changes in the cervix. HPV is not the same as HIV. HPV is not a new virus, but we are learning more about it. Most men and women who have ever had sex have had HPV at some time in their lives. HPV is spread through sex, and it can cause an infection in the cervix. The infection usually doesn't last very long because your bodies are able to fight it.
HPV infection can change cervix cells into pre-cancer cells. Pre-cancer cells are not cancer, and they don't cause changes that we would notice. Most cells with early pre-cancer changes go back to normal on their own. If they don't, they can be treated. Sometimes, if they aren't found and treated, the pre-cancer cells can turn into cancer. Cervical cancer can also be treated if it's found. Very few HPV infections lead to cervical cancer. Because HPV is so common, any woman who has ever had sex can get cervical cancer. But, most women who get HPV do not get cervical cancer.
Women who get their tests for cervical cancer as often as they should are least likely to get cervical cancer. Some women have a greater chance of getting cervical cancer if they: have HPV and it doesn't go away, have HIV or AIDS, smoke.
Most people will never know they have or had HPV. But if the HPV doesn't go away on its own, it can cause changes in the cervix cells. These changes usually show up on Pap tests.
How is HPV treated?
There's no treatment for the type of HPV that causes changes in cervix cells, but most HPV infections go away without treatment. There are no medicines to treat HPV. There are treatments for the cell changes in the cervix that HPV can cause. If your Pap test shows cervix cell changes, your doctor or nurse will talk with you about treatments, if needed.
If you are interested in spreading the word in your community and promoting the cause, try these ideas:
You can contact your local media and ask them to cover Cervical Cancer Awareness month.
Social media has such a heavy influence nowadays and many of us forget how simple spreading a message can be. Simply change your Facebook and Twitter status' and pictures to Cervical Health Awareness and use the hashtag: #CervicalHealthMonth
Log on to http://www.cancer.gov/cancertopics/factsheet/Risk/HPV

Most importantly, explain to everyone you know the importance of recognizing this special month. When more people are in the know, early detection is possible.
Join me in recognizing January as Cervical Cancer Awareness Month!