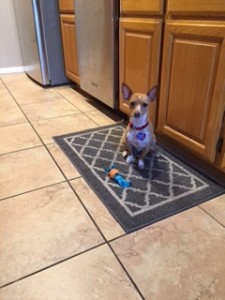 I was in San Diego last month attending to the needs of my elderly parents when I first encountered a foster mommy, her forever dog and the pup that she was taking care of that had been rescued from the streets of Los Angeles. I stopped and talking with her about the rescue organization and the circumstances regarding Millie's need to be adopted.
The next day at a different time, in a different place I once again encountered Miss Millie, her foster mommy and forever dog. I asked if I could pick Millie up and I was told that's what she lives for.
I scratched Millie's face, she closed her eyes and leaned into my face. I was enchanted.
I have never had a dog as an adult. I was raised with a pet dog while I was growing up but it was clear that our dogs belonged to our father who took care of them, fed them, trained them etc.
I raised four children as a single mother. They were 2, 4, 6 and 8 when their father and I divorced. I used to say that I didn't have time to potty train a dog because I was potty training children. I've been 'home alone' for nearly 5 years since my 4th child went off to college. The resulting freedom, independence and solitude were luxuries to me and the thought of taking on another responsibility was not in my game plan.
However, after I returned to my home last month, I couldn't stop thinking about Millie and her circumstances. I logged onto the rescue's website, www.forgottenpaws.org and saw Millie's picture as available for adoption.
I contacted the woman that founded the rescue and she told me that Millie was indeed still available for adoption. I decided then and there that if I could raise 4 children, surely I'd be a good forever mommy to Miss Millie.
I drove back to San Diego to pick up Millie and we've been fast friends ever since! Millie loves everyone she encounters and every four legged friend too.
I take her to as many places as I can (that allow dogs) so as to incorporate her into her new life and make her as much a part of mine as possible.